Operational evaluation: LEAP
An important asset to SOLIID is the SOLIID LEAP. The Load Effects Assessment Program is an instrumented, extensive and modern obstacle course. By procuring the LEAP SOLIID has laid a solid basis for the evaluation of clothing and protective personal equipment and the influence of different configurations on operaltional performance.

Climate chambers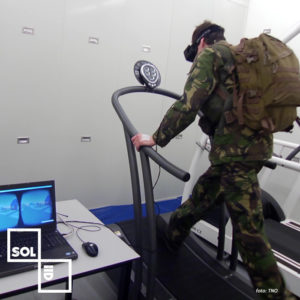 The SOLIID infrastructure comprises various experimental, research and simulation facilities. At the Soesteberg premises of TNO SOLIID can dispose of the Soldier Performance Lab which among others consists of:
Fully equipped climate chambers (tred mills, bicycle ergometers, extensive data acquisition)
Ergonomic test course, range of motion testing
Sports facilities
Shooting simulation.
Full equipment for field experiments
Virtual en augmented
To assess the performance of SA and decision support systems under fully controlled operational circumstances SOLIID aims to enhance and expand its virtual reality and augmented reality facilities. In these facilities we will administer various stimuli (heat, cold, exertion, sleep deprivation, distraction or multiple tasks) in VR/AR which allows to increase credible realist conditions while maintain full control of the circumstances. In Soesterberg TNO and SOLIID developed an AR set-up the includes a tread mill, several soldier stations, cognitive tasks and tactical aids.